Dalszöveg
Egy egyszerű regisztrációt követően korlátlanul hozzáférhetsz az oldal stream tartalmaihoz!
BELÉPÉS
Kövess Minket a
Facebook-on is!
Szerkesztés
Abyss
Zenei stílus: Metal
Kiadás éve: 2020
Open my eyes in a daze
How long has it been? Am I so out of place?
Warmth I can no longer feel
My mountain is gone, I'm surrounded by steel
The strangest of structures arises ahead
Seems to be held up by nothing
Where have I gone, do I dream?
How can the stars be all I can see?

Dark embrace
Has someone awakened me?
Please show your face
Cold and quiet space

Out so far beyond stars and the sun
Filling my heart up with wonder, unknown
Now, to the edge of imagination
Open my eyes to phenomenon, and hope

Feverishly I explore
Searching for someone, there has to be more
I can't be the only one here
My path always guides me, there's nothing to fear
Then why do I feel so immensely alone
This can't be the end of my story
Onward I go once again
Fighting my way to my final breath

Into the abyss

Out so far beyond stars and the sun
Filling my heart up with wonder, unknown
Now, to the edge of imagination
Open my eyes to phenomenon, and hope

Summon the strength of millenniums past
Forged by the fire and flame
I am the weapon of empires vast
Immortal is more than a name

Out so far beyond stars and the sun
Filling my heart up with wonder, unknown
Now, to the edge of imagination
Open my eyes to phenomenon, and hope

Cry into the chasm ahead
Into the sky never ending, although
Time will tell if I'm worthy of it
A future of final transcending, alone
Képgaléria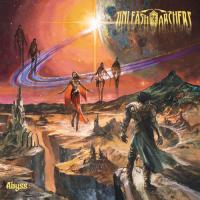 Albumok
Dalszövegek